You can click "Color" at the red circle in the figure below to display the thermal image.
The optional color palettes are as follows:
· Rainbow
· Iron
· Tyrian
· Whitehot
Available for image alarms and sound alarms, and automatic saving of snapshot when alarms occur.
When the temp exceeds the threshold, the area temp measuring box will turn red to give an alarm.
Click on the ellipsis following the word "Voice Alarm" to select different sounds and intervals for sound production, and click on the ellipsis following the word "Alarm Photo" to select the directory and interval for automatic snapshot.
The alarm support customized sound file, now only support PCM encoding WAV file.
If "Alarm Photo" is checked, the snapshot will be displayed on rightmost side of the software and the snapshot time will be displayed. Click this picture to view with Win10 default software.
Configuration
Press the upper right corner configuration icon, the users can configure the below,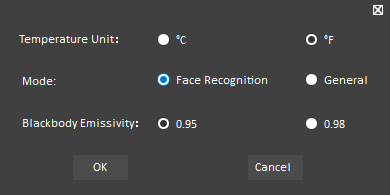 · Temperature unit: Celsius or Fahrenheit.
· Measurement Mode: Face recognition or General mode
· Blackbody emissivity: 0.95 or 0.98
CE ROHS FCC